Hi there,

This morning, as I went for a run, I met a man sobbing. As I stopped and he shared how worried he was and how guilty he felt about so many things, it was a stark reminder that the new reality we face affects us all in different ways. It was like a divine appointment that I was there at his time of need.

I am feeling deeply challenged again at a personal level. When a charity grows, the leadership can start to see people in groups rather than actual individuals, with personal cares, concerns, and opportunities. As we struggle to respond to among other things, those who steal, domestic violence, multiple wives elsewhere and have such a different worldview of right and wrong, it reminds me how much we have to learn. Does Mercy triumph over judgement in such circumstances and as I am reminded can we see the boundaries fall in pleasant places.

It is easy to forget how COVID is affecting the very poor. It means that a number of us cannot be in Sierra Leone at present. Below is a short explanation of how COVID is affecting Sierra Leone. Knowing we can be part of reaching out and helping those in need, especially as the rains approach is a privilege to be part of. The gift of being in service to others changes our perspective.

I wonder if you are on furlough or have any time to spare. One area we need help with is to build a new website. If you have this expertise and be interested in helping then please get in touch.

For several months we seem to be at the point of breakthrough, yet as of today it has not yet come. Thank you for your prayers, love, financial support and encouragement. Please continue to help and engage with us where you can as all you can do is so much appreciated by us and each of those we serve.

God bless.

Nigel Hyde
Chief Executive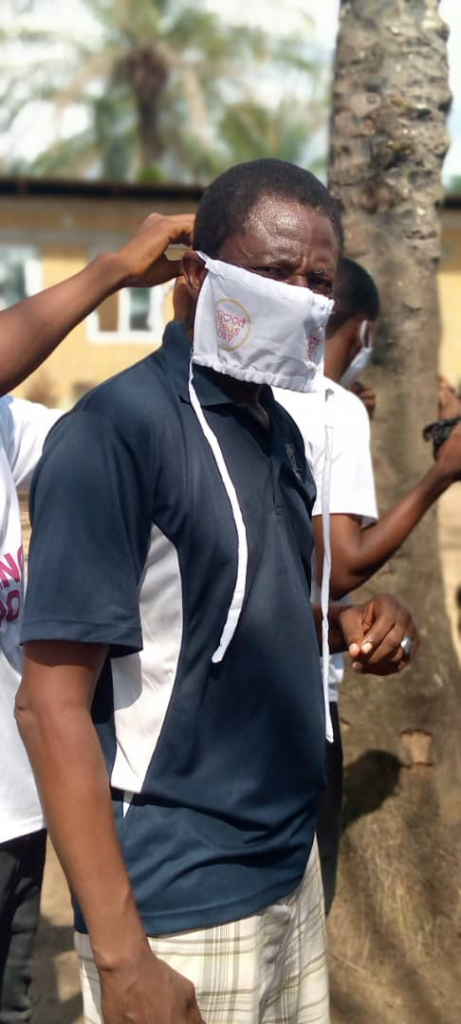 At the time of writing there are just over 1,000 cases of Covid 19 officially recorded. Some aspects of the Sierra Leone response to this pandemic have been impressive and some less easy to understand. There are testing teams who will travel to any location and do a Covid test when requested but there is a reluctance to tell the tested person if the result is positive because experience has shown that because of the stigma felt by Sierra Leoneans (this emanates from Ebola) the individual in question is likely to run away. Therefore, instead of announcing the test result you get the police and a different government team arrive on your doorstep to take you to a 'treatment' centre for isolation purposes. Another anomaly is that at the onset of any symptoms you are required to be located in a hospital regardless of whether your symptoms are severe. The upshot of this, of course, is that if you didn't have Covid before, you fairly likely will have after! Not surprisingly this has not encouraged people to ring the symptom contact number.

So far, the Government has instigated two, three-day lock downs. Given that the minimum incubation period of Covid appears to be 3+ days it is difficult to see the rationale of a 3 day lock-down but perhaps recognises that unlike most of us, people live day to day and cant go and stock up on food and water.

Masks are required to be worn in public now and although the progression of the disease is still on a steep up-curve (figure 1). It is interesting that the published cases have not reached the levels that might have been predicted from the whole-world experience. The figure for active cases (those currently infected) has recently shown a decline (figure 2) although it's unlikely that the data quality can be relied upon.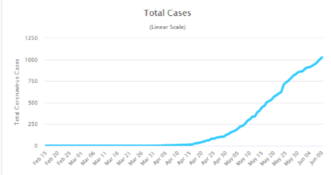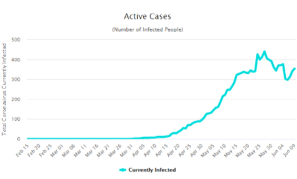 We have developed a Covid strategy for Destiny Village which includes the availability of food in the event of a lengthy lock-down, training and arrangements for social distancing (a very difficult thing to achieve when compliance is as low as it is there). Within Destiny Village we have just had our first case of confirmed Covid 19. The person in question had just returned from a trip to Bo (the second largest town in Sierra Leone). He has now been taken to a treatment Centre. We are now 9/10 days from his last contact with others in the village without any further (related) illness. We are praying that the next 5/6 days will be the same. The school has been closed for a number of weeks now although the children are receiving home assignments and we are just about to re-introduce some social-distance groupings for the children to continue their education.

Overall the situation is very fluid, and because travel and community living throughout the country appear to be continuing with little change I doubt we have seen the end of Covid in Destiny Village so we continue to hold the situation in prayer and in a state of readiness as much as we are able.

At the bottom of this news are a few of the ways COVID response has been communicated in Sierra Leone.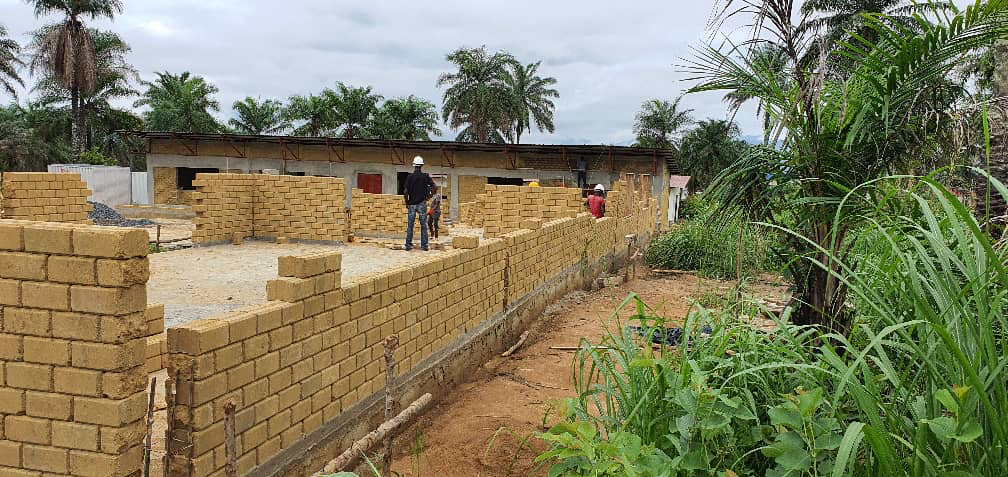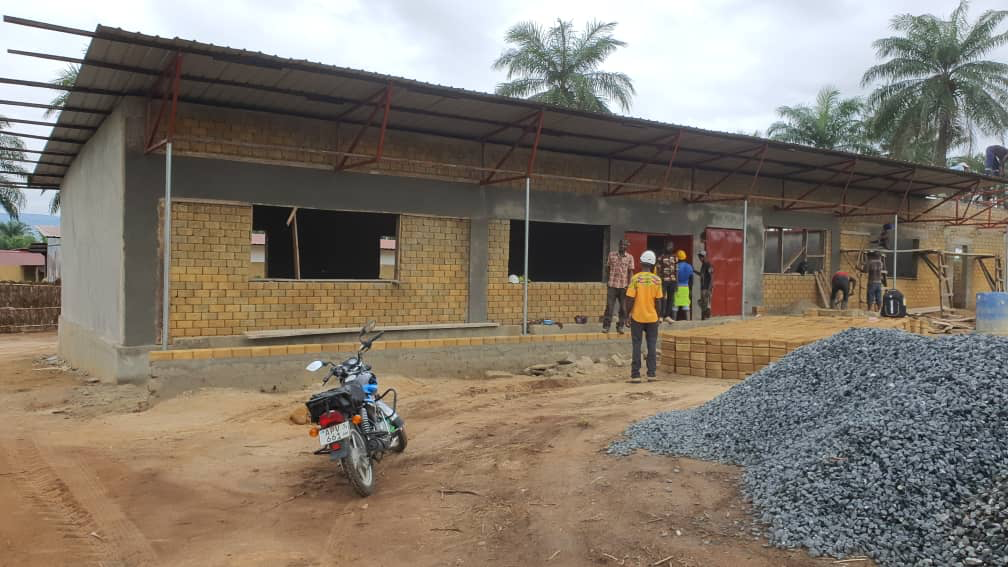 Whilst we have had very little income in May, the gifts to build 4 classrooms and 4 homes earlier this year have kept us going. It is exciting to see how the junior secondary school is taking shape and will hopefully open in January. The Primary school is opening to the wider community from September which will enhance learning for many, who currently struggle to access any quality education.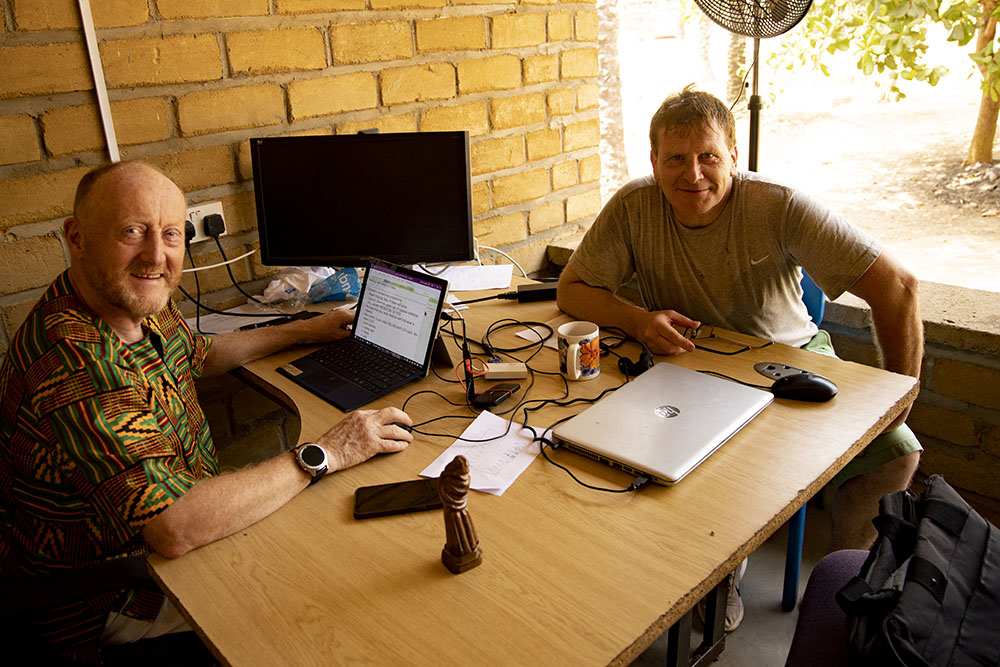 Above is Clive and I in our outdoor office in Sierra Leone. We were pleased to get to the final of the Global Housing Institute Awards, based in America. Of over 100 entries across the world, to make the final was quite an achievement. Whilst we did not win it reminds us there is passion across the world to address slum relocation and how much the learning of others can inform our approach. If you want to see our paper do get in touch as it sets our quite well what we are trying to achieve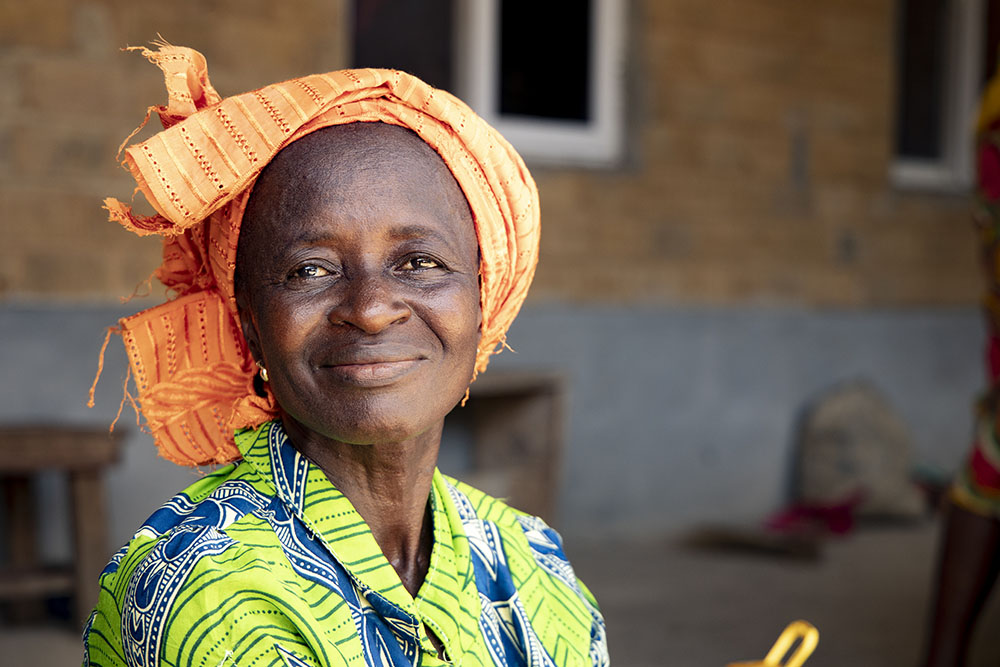 The Award process also challenged us to think again as we revisit the original vision and strategy. As the founder, making it clear there are no sacred cows is not always easy, but we have to learn and be pragmatic. You will not be surprised that the building is relatively straight forward compared to the people behaviours. But this and Gods love is it at the very heart of what we believe. That transformational living is possible as freedom comes, step by step, from many of the fears people bring from a history of broken lives living in appalling conditions.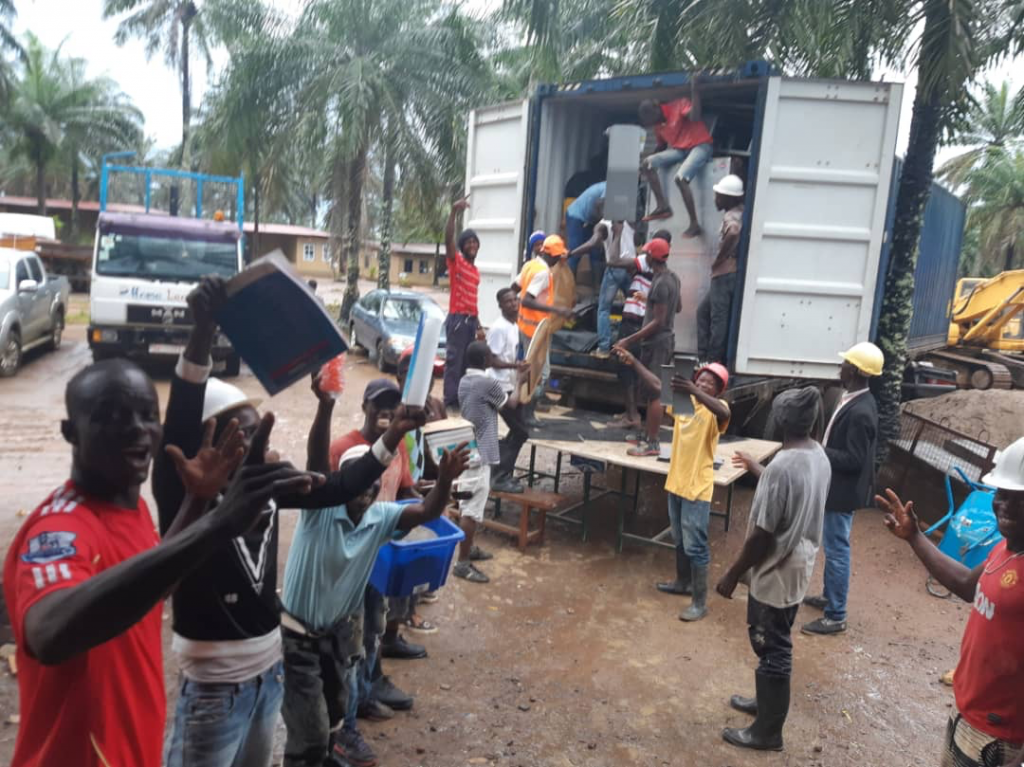 We are looking to get another container ready for storage based near my home in Bishops Waltham. If you are interested in helping us fill it with vital supplies, school equipment, gifts in kind then do lets us know. If you are in Education and going through a clear-out at your school do think if such equipment, assets or curriculum could be reused elsewhere as we may be able to use it to help.

As we are building a new school, we will need more furniture, copiers etc as well as regular monthly operational support.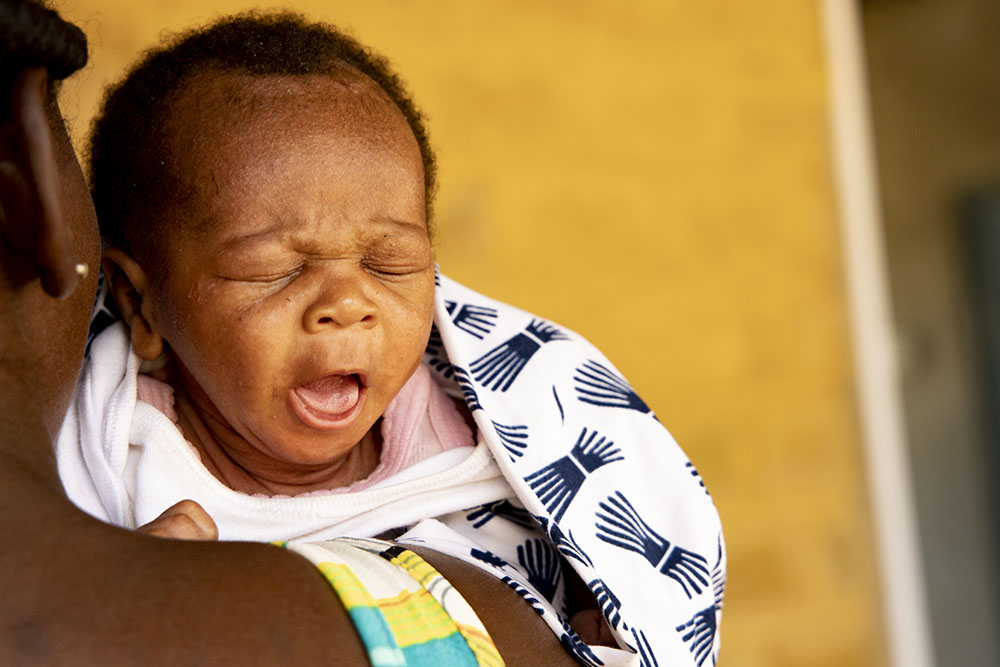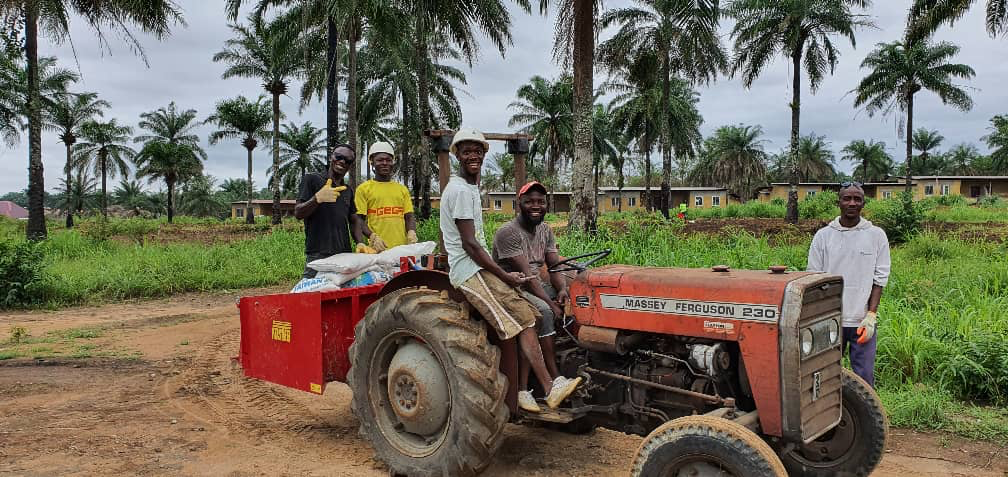 We are thrilled that a number of babies have been born to our staff and residents. Also, deeply thankful a wonderful group of people in the north of England who have given and shipped a tractor and trailer and some PPE. What a huge help around site. Shoe aid have also agreed to give us nearly 300 pairs of work boots and shoes which will help significantly. We have also been given PPE by Vistry Partnership with the help of Turley.