Education
Home Leone is developing primary, junior secondary and senior secondary schools together with vocational training and adult learning. We will educate over 700 children, located at the heart of Destiny Village.
The average Sierra Leonean class size is 82 (2013) and classes in excess of 100 children are not uncommon.  In 2013, there were 1.33 million primary school children and less than 16,000 solid classrooms across the country.  The need for more schools, and quality schools is overwhelming.
Pupils will be children who currently live in tin shacks, a place where 1 in 5 sleep tonight with 10 or more in the room, few have running water, sewage systems are non-existent.  At present some go to distant schools as the government does not pay teachers who work in the few schools in the slums.
These children will undertake a new style of learning.  The key indicator is the child's ability to pass an  exam at age 12 and the WASS at age 18.  These will be expected to be 95%-100% pass rate for this school.
We are building the school in line with village growth and as soon as resources allow.  BuildAid from Norway have wonderfully agreed to build the first 4 classrooms, and admin block, designed by MEB Design (London Architects). The Charity CRY have agreed to add another one.  The foundation stone was laid by Ole Stenbakk of BuildAid in October 2017.  We aim to open the first school in January 2019.
Vocational Training is vital component of youth skills development and forms part of the plans.  In June 2018, training of skilled mechanics will begin in our garage business.
It is our vision to alleviate poverty through a comprehensive education that empowers students to flourish in and around their community.  Our mission to equip teachers with the engaging techniques, curriculum, and supports needed to provide a first-class, quality education that meets the academic, social-emotional, and spiritual needs of each student.
We value…
Hard work, perseverance, and team work
Honesty, integrity, and respect for each other and all of God's creation
Optimistic mindset of growth and achievement regardless of circumstance
Communal approach to education that includes family, church, school, and community
Inclusivity and understand the importance of adaption and accessibility
Continuous and respectful communication between all (speaking, listening, feedback)
Learning and the ongoing process of how the world works
 Program Overview
Primary, Junior, and Senior schools (24 classrooms total, educating approximately 700 students)

4 classrooms have been constructed and the foundation for classroom # 5 is in the works

Vocational Training (including but not limited to chicken farming, vehicle mechanics, & brick making)
Adult education (primary focus, functional literacy & math skills)
Curriculum is aligned to Sierra Leone's Ministry of Education's Teaching & Learning Standards
Future initiatives include, a parent-teacher organization, extracurricular programming, after-school
programming, an environmentally friendly school, and pen pals around the world!
First Year Goals
Establish consistent student and staff attendance
Create a positive and warm school culture and environment
Provide ongoing support, feedback, and professional development/training for our staff
Encourage and motivate teachers to return to the classroom each semester & school year
Education Steering Committee Overview & Responsibilities
Since team work is one of our core values, we strongly believe in working collaboratively with others. To help our community, program, and mission reach its fullest potential.
We are seeking inspired and motivated individuals who have rich experience working in education, social work, child development, or the nonprofit sector to join the education steering committee!
Members will be asked to participate in four quarterly meetings via remote access. Any additional requests will be strictly voluntary, as we are very conscientious of your time commitment. Committee members will be called on for expertise in the following areas assessment/data, student curriculum, teacher training/professional development, community outreach, fundraising/budget, and school policy.
Help impact the lives of nearly 2,000 Sierra Leoneans. Contact Lauren.Conway75@yahoo.com or Ryanneshafer@gmail.com if you're interested in joining our team!
Meet Our Staff
Lauren Conway: Director of Education
Lauren is a Board Certified Behavior Analyst and certified Elementary and Special Education teacher from the U.S. Lauren received a B.A. in Psychology and a M.A. in Special Education from West Virginia University. She went on to complete a Post-Master's Certification program in Applied Behavior Analysis from Caldwell University. She has over 12 years of experience working as an educator in school, home, clinic, and church-based environments throughout the U.S. and Sierra Leone.  Lauren is residing in Sierra Leone and is founding Destiny Grace Academy to open in January 2019.
Steve Loryman: Head Teacher, Junior School
Steve has been a teacher for over thirty years. He trained special education and worked in both primary and secondary; residential and day schools.  I worked in three new start up schools so have experience in the challenges and joys of starting a new school. Throughout my career I have held senior posts in schools. In the 90's he took a few years out of school teaching to work in a teacher training college and whilst there had opportunities to train staff in five European countries.  After retiring from teaching I worked for a mission organization for four years organizing teams of volunteers to build social projects in six countries, mainly in Africa. I have had a long-standing interest in Sierra Leone and have visited and taken teams there for the last decade. I have built myself a home in Sierra Leone.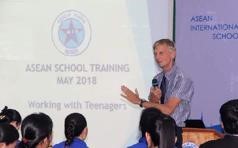 Ryanne Shafer: U.S. Based Trainer/Support Worker
Ryanne is a certified primary education teacher, who has taught in Connecticut, Virginia, and Sierra Leone, West Africa. She graduated from Illinois Wesleyan University, and earned her Master's Degree in Education from Aurora University. She taught for Achievement First Schools in Bridgeport, CT where she was a founding teacher. She has also written and published curriculum for the Achievement First Network, and trained and mentored teachers.  Ryanne is residing in Orlando, Florida with her two children and husband.